Footprints - Mrs Read's Class
For more information, please log in to your Google Classroom account and visit the Footprints Classroom.
Teacher - Mrs Read
Teaching Assistant – Mrs Morris
Welcome to Footprints
Reading
Have you got some new home books? Check out if it's in your AR range and if there's a quiz for it.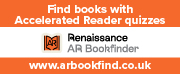 Year 4 Spellings
Year 4 Key Instant Recall Facts